5K RACE DAY IS OCTOBER 8, 2022
8:30 AM | Methodist University
---
WHAT IS RAY'S RUN?
Ray Helton was the Executive Director of Fayetteville Area Operation Inasmuch from 2017-2019. He brought a vision to life when he championed the programs provided to men living at The Lodge. The Lodge helps homeless men who want to change their lives by giving them a safe place to live and the opportunity to get their lives back on track.
Ray's Run is a 5K that serves to honor Ray and build upon the foundation he laid during his time at Operation Inasmuch.
---
WHAT DOES RAY'S RUN BENEFIT?
Simply put, Ray's Run will benefit upgrades at The Lodge.
The kitchen needs to be upgraded to commercial quality so that we can prepare 30-40 meals daily. We have also expanded our programming to include three more tracks, in addition to a work program. We will provide in-house training for the men at The Lodge during the day and community service until employment is secured.
Ultimately, our vision includes developing a complete recovery program with case managers, clinical therapists, and trauma counselors.
Help us meet our current needs and join us in dreaming big!
WHEN AND HOW DO I REGISTER?
Late registration is $35 and closes at 5:00 PM on October 7.
Walk-up registration will be available on October 8th, Ray's Run Race Day, at a price of $40.
WHEN AND WHERE IS RAY'S RUN BEING HELD?
Race day is Saturday October 8, 2022 beginning at 8:30 AM. Ray's Run is being held at Methodist University near Matthews Ministry Center (Parking Lot J). Check out the race map!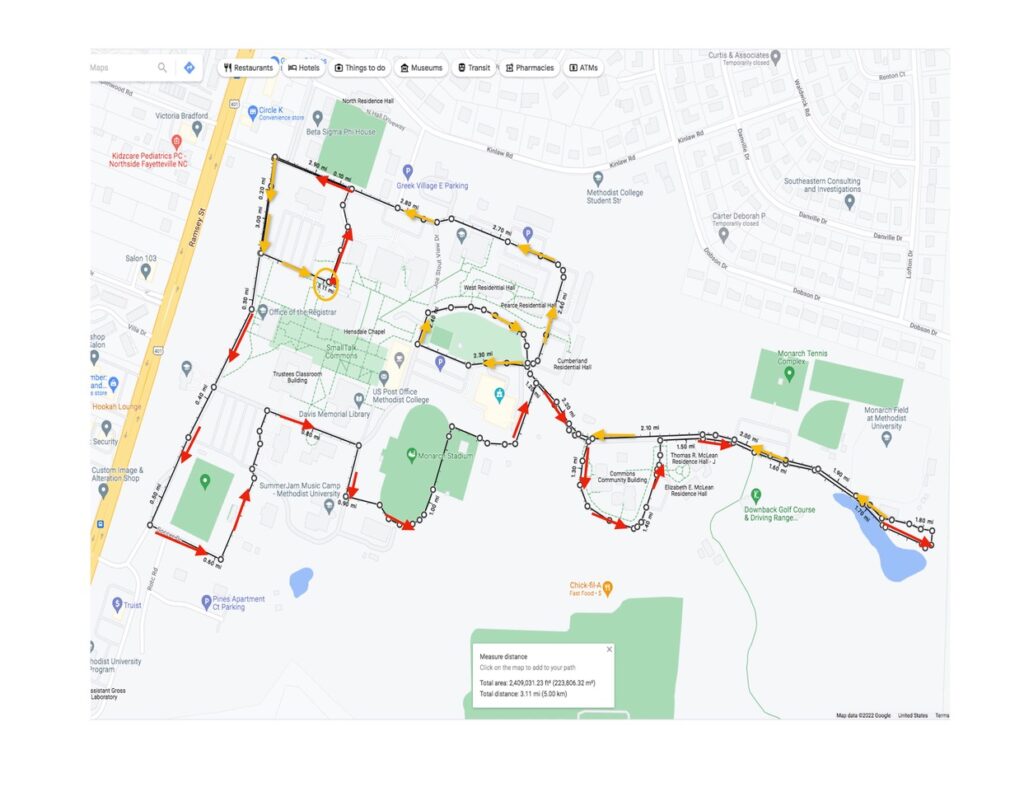 WHEN AND WHERE DO I PICK UP MY RUN PACKET?
October 5 from 10 AM – 12 PM.
ReStore Warehouse (205 Forsythe St.)
CAN I PARTICIPATE VIRTUALLY?
Absolutely! Runners must submit a screenshot with the distance and time included by Friday, October 7th at 12:00 PM. Screenshots should be submitted through the registration page. (Instructions will be emailed to you when you register.) There will be winners in the virtual category and those winners will be announced at the live event. Here is an example of the screenshot of distance and time: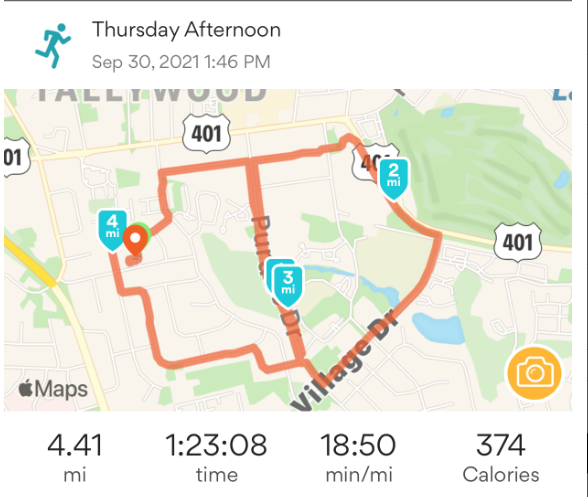 Our virtual option is $30 and you can register through the regular registration page.
WHAT IF I CAN'T PARTICIPATE ON THE NEW DATE?
You're in luck! You can switch your registration to a virtual registration and still participate. Be sure to look above for instructions on submitting your screenshot of the time and distance of your run. If that option will not work for you, please reach out to us for a refund.
HOW CAN I SHARE INFORMATION ABOUT RAY'S RUN WITH OTHERS?
Thanks for helping us spread the word! We have flyers, church bulletin inserts, PPT slides, and social media images available for you.
I WANT TO HELP! DO YOU NEED VOLUNTEERS?
Thank you! You can sign up to volunteer here.
I CAN'T BE THERE THIS YEAR, BUT HOW CAN I MAKE A DONATION?
We'll miss you this year, but are grateful for your support!
WHO DO I CONTACT WITH QUESTIONS?
All questions can be directed to Kanesha Bryant at raysrun@faoiam.org.
WHERE CAN I FIND UPDATES ABOUT RAY'S RUN?
Be sure to check your email to receive updates about Ray's Run. If you don't receive email from us, be sure to sign up here.
Follow us on Facebook and Instagram.
---
IMPORTANT DATES TO REMEMBER
August 8 – August 22: Early Bird Registration
August 23 – September 19: Regular Registration ($30)
September 21 – October 7 (5:00 PM): Late Registration ($35)
October 5 (10:00 AM – 12:00 PM): Packet Pickup
October 7 (12:00 PM): Virtual participants must submit their screenshot of distance and time
October 8: 5K Race Day!
Walk-Up Registration on Race Day ($40) Cash, check, credit card accepted.
---
THANK YOU TO OUR SPONSORS