Our Purpose Statement
Inasmuch exists to be the hands and feet of Jesus among the broken, hurting, and homeless, by offering relief, recovery, and restoration of hope.
Our Vision
We see homeless men with multiple life barriers restored and resilient in mind, body, and spirit.
We will see these men…
Engaging in supportive communities
Becoming financially independent
Having a generous spirit
Pursuing a relationship with Jesus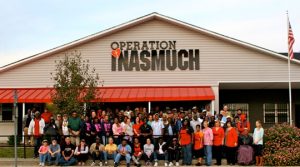 RELIEF
Food, Shelter, Clothing… these are the basics, right? Everything we do starts with coming to breakfast (Monday-Friday) at 7:30 AM. From there we can assess your situation and help you get connected to the best resources in our community. If you need help obtaining your vital documents (SS Card, Birth Certificate, and Driver's License) we can assist you with that process. If you need help getting into the Coordinated Entry system then we can assist you with that process. If you need some basic health care, mental health, or rehab we can also assist you in getting connected to those resources as well.
RECOVERY
What does the road to recovery look like? Well, it's different for each individual depending on their circumstances and their particular set of life barriers. Beyond the basics mentioned above, you may need specialized training and/or treatment. We have multiple partners in our community who can work with you to overcome the barriers so you can move into your preferred future with hope.
RESTORATION
Jesus said, "I have come to restore, all things." We believe that includes you, me, our community, and our world. Jesus wants us to be HEALED!! Did you know that everyone who came to Jesus with a disease was healed?
It is our desire and determination that every man that completes The Lodge program will be HEALED.
H- Hope restored
E- Economically stable
A- Academically proficient
L- Lodging secured
E- Empowered for their success
D- Determined to achieve their life goals