Breakfast
Since our founding in 2006, we have served over 300,000 hot, nourishing, home-cooked breakfast meals to over 8,000 low-income and homeless people on weekdays. This program also provides various resources and services. These include mail call, hygiene kits, haircuts, and doctor visits on a weekly basis.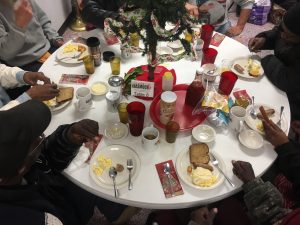 Able-Life on Frink Street
Our Frink St. houses are also part of the Able-Life program. During this phase of the program, we transition Lodge members into homes we have built or renovated in a once-neglected historic downtown neighborhood. Frink Street residents maintain a job and sobriety while they prepare for an independent future.