Join us for Giving Tuesday!
We are excited to join CCF this year for our Giving Tuesday campaign. The first $15,000 we raise goes towards our endowment fund. Our endowment is crucial; it helps to sustain us for this generation + generations to come!
If you feel led to partner with us visit our donate page here and click on the red Giving Tuesday button.
We welcome you to
Fayetteville Area Operation Inasmuch!
*We will be closing early Wed. 11/23 at 12:00 pm and closed Thursday, Nov. 24th & Friday, Nov. 25th (in honor of the Thanksgiving holidays).
We offer the following resources to our family and community:
Showers & Laundry ( M-F 6:00 – 7:00AM)
A Hot Breakfast (M-F 7:30-8:20 AM)
Mail call (M-F During breakfast)
Hygiene kits (Fridays 6:00-7:00 AM)
Case management – (M-F Following breakfast)
The Able-Life Program (24/7 – Everyday)
Sick Call w/ our Medical Team (Every other Wednesday)
Our Programs
Breakfast
Since our founding in 2006, we have served over 300,000 hot, nourishing, home-cooked breakfast meals to over 8,000 low-income and homeless people on weekdays. This program also provides various resources and services. These include mail call, hygiene kits, haircuts, and doctor visits on a weekly basis.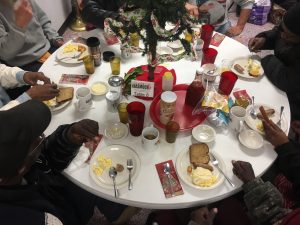 Able-Life at The Lodge
Over the past 4 years, Our Able-Life Program Has:
Led Over 250 Men To Get Jobs
Assisted Over 150 Men To Find Stable Housing
Provided Financial Planning Classes
Provided Individualized Case Management
Offered Job Search & Interview Training
Conducted Weekly Bible Classes
Reduced the homeless population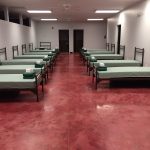 Able-Life on Frink Street
Our Frink St. houses are also part of the Able-Life program. During this phase of the program, we transition Lodge members into homes we have built or renovated in a once-neglected historic downtown neighborhood. Frink Street residents maintain a job and sobriety while they prepare for an independent future.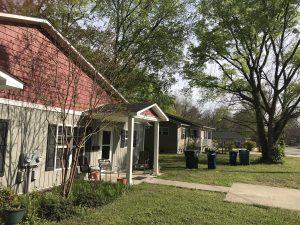 Contact us at 910-433-2161 or communityengagement@faoiam.org, for more information on volunteering, donations, and stories from the ministry!

Sign-Up to receive our monthly e-newsletter!