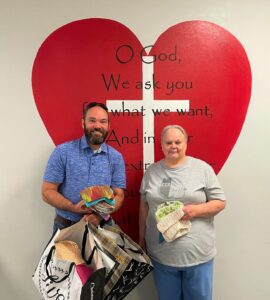 A community knitted together by God's love is the best kind of community. And Threads of Love does this figuratively and literally.
Thread of Love, started by Sue Sellers, is a yarn ministry out of Church of the Open Door (Cliffdale Road). However, it began here, at Inasmuch, over ten years ago. As the group grew, Church of the Open door gladly took them in.
One of their long-time and dedicated members, Debbie Fisher, came by and donated 350 handmade washcloths! Debbie explained it takes 3 hours to make one washcloth; so, Threads of Love spent over 1,000 hours making them for our family members! Debbie shared, "I started when we met here [Operation Inasmuch]. And I'm thankful that, despite COVID-19, it has grown. We now take up 2 closets for our yarn and projects. The Lord is really blessing the ministry. And we've grown, we had 22 ladies participate in making the washcloths."
Threads of Love has been a part of Snyder Memorial's Blitz Days for a long time and they also keep busy year-round. Other projects are for the Chemo unit at Cape Fear Hospital and the NICU at Womack. Some ladies focus on making ap blankets for residents at the VA Hospital. And in the winter, Threads of Love makes hats and cowls to deliver on Thanksgiving Day.
Currently, the women are making prayer squares (3×3 squares); and while they knit, each woman prays over it. When it is all completed, the group places it all on the table and they all pray over the collection. Debbie explained they have prayer squares all over with world, with our military. Their goal now is to get prayer squares done for each firehouse and police officers.
"A lot is going on where knitters and crocheters can come together. We enjoy the fellowship and taking what we love to do and serving the Lord with it," Debbie said.
For more information, you can call the church at 910-864-3237 and get connected with Debbie!
Thank you, Threads of Love, for your generosity and servant's heart!